Note: this article was written in haste as I wanted to get it out before the end of trading for 16 March. Please excuse any errors in grammar.
For personal reasons, the human tragedy in Japan touches my heart. For two years, Yokosuka, Japan was my homeport when I was stationed on the USS Midway, and over the years I've had the opportunity to visit many other Japanese cities. I can honestly say that I've never seen another country where the people where so honest and kind to visitors. Seeing the Japanese people now struggling with the aftermath of a 9.0 earth-quake, massive tsunami, and now a nuclear nightmare is heart rending. They are in my prayers, and I hope their suffering will prove to be short lived.
But I'm not optimistic that the events of the last week will be short lived, or that Japan's problems will be free of consequences elsewhere. Ten years before Alan Greenspan's monetary policy inflated a financial bubble in the American stock and real-estate markets, Japan's "policy makers" had done this exact thing with their stock and real estate markets. Their bubbles popped in 1990 (ten years before ours), and for the past 20 years, the Japanese politicians have been deficit spending, swelling their national debt to combat "deflation" as officials of the Bank of Japanhave maintained insanely low interest rates, and easy credit. I don't have the data for a graphic, but from what I read on the internet, Japan's nation debt as a percentage of GDP, is one of the largest debt loads in the world, with multiples of yen in debt for every yen of economic activity.
So far this hasn't been a problem, as the world for good reasons has always considered Japan a solid credit risk. But after last Friday, is this still true? After all the Japanese people, and their economy have received three massive-body blows in the past few days, blows so massive that any single blow alone would have crippled a less or economy. The debt markets are famous for their insensitivity to the needs of bleeding humanity, so Japan must still service the debts its "policy makers" have placed on it, as well as dig itself out of the hole an earth-quake, tsunami, and nuclear catastrophe have placed it in.
I expect the best early-warning system for any spreading contagion spreading from Japan, will best be seen in the Bear's Eye View for the Dow Jones, gold and silver. My reason for thinking this is that Japan, as of December 2010, has the second largest holdings of US Treasury Debt. Currently, Japan holds $886 billion in US T-Debt. Normally, one would think that Japan could sell their US Treasury "assets" to finance reconstruction. But with PIMCOs' Bill Gross making it known that his bond funds (the world's largest), exited the overpriced T-Bond market, who else but the Federal Reserve is left to absorb Japan's selling, at prices approved by Dr. Bernanke?
The Bear's Eye View (BEV) is a charting technique that restricts a data series to a fixed scale, ranging between 0% (new all-time highs), to -100% (total wipeout in valuation). As Mr. Bear is not impressed by how high the bulls can take a data series up from one new all-time high to the next, every new all-time high is reduced to a Big-Fat Zero. The only thing Mr. Bear cares about is how large a percentage he can take back from the bulls, and that is exactly what we see with a BEV Chart:
Each Record High in a Bull Market
Corrections, in percentage terms, between each new high within a Bull Market
Percentage declines in a Bear Market
Taking the Bear's Eye View of the Dow and the metals since their credit crisis lows, we see that all three markets have seen a nice series of BEV Zeros, and so far survived their corrections, declines of less than 10%-20% before these series go on to make new BEV Zeros. With the problems we see in Japan today, can these markets continue this bullish pattern?
For the Dow, last July's 13.5% correction is our bench-market. At the end of today's trading, the Dow Jones closed -5.61% from its last all-time high of 18 Feb. How high was the Dow on 18 Feb? From the Bear's Eye View, it was as high as any other new all-time highs in the Dow Jones going back to 1885:
A BIG-FAT ZERO!
Mr. Bear doesn't care how high the Dow was on 18 Feb; only that a month later (close of trading 15 March) he has taken back 5.61% of the Dow from the bulls, and he will take more if the bulls can't stop him! So, the key thing to note in the days, weeks and months to come is how far the Dow falls from its last BEV Zero, and if the BEV lows of last July hold. Also, if in the case the Dow bulls can keep it above its -14% BEV lows of last July, how soon is it before the Dow bulls once again produce new BEV Zeros? It goes without saying that a breach below last July lows would indicate that Mr. Bear is over-powering the bulls.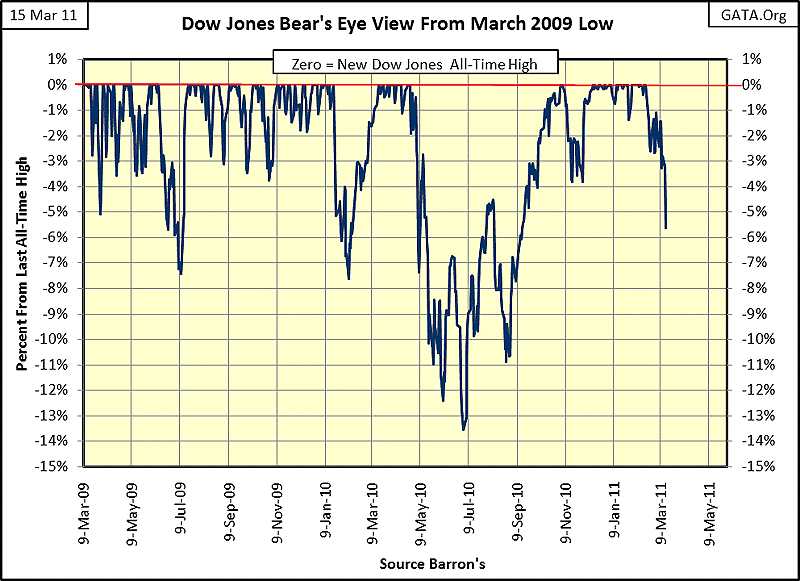 These same guide lines are true for looking at gold and silver's BEV Charts. But we should note that the BEV Charts for the Dow, gold and silver are different from each other. If the Dow Jones above should decline below is BEV -10% Line, that is a concern, as with one exemption (April 2010 "Flash Crash & BP's Oil Spill) the Dow's bull market corrections since March 2009 have been less than 10%. But this isn't true with silver, whose BEV Plot frequently declines to its BEV -20% line.
So if in the above BEV Chart, the Dow Jones should break decisively below its Bear Eye View lows of last July (BEV -14.5% = DJIA @ 10,600 ), I expect it's because the "policy makers" are losing their grip on the financial markets, and we might soon find the Dow Jones once again heading towards its lows (in both nominal and BEV Terms) of two years ago.
Looking at the Gold BEV chart below, it's important to note that at the close of 15 March, the Dow has fell farther from its last all-time high than has gold. Here are the declines from their last BEV Zeros.
Gold --------: -3.10%
Dow Jones : -5.61%
But true to form, CNBC for most of the day warned investors that gold, not the stock market was in a bubble. Well, "stupid is what stupid does." Anyway, gold could correct 14% (gold at$1235) without causing alarm in the chart below.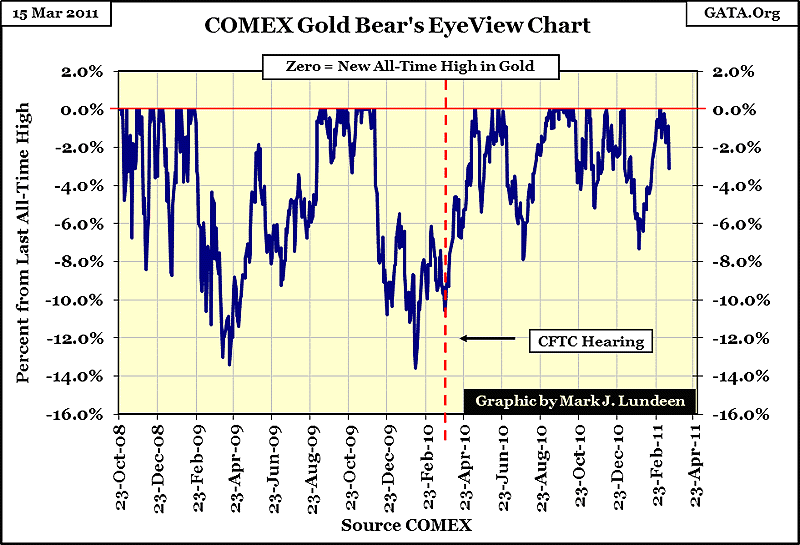 Silver has always been volatile, its BEV Chart makes this clear. So, should silver decline down to its BEV -20% line ($28.80), this is no cause of panic forpeople who are buying silver to hold. But: note that on the close of the markets on 15 March, the Dow Jones had fallen farther than silver from its last all-time high.
Silver -------: -5.35%
Dow Jones : -5.61%
Seeing the Dow Jones decline further than silver is not a good omen for the bulls on the stock market. * If *in the days and weeks to come, the Dow Jones continues to drift lower from its last BEV Zero than does silver; or even worse for the stock bulls, to have silver and gold turn around, and head up to their BEV Zero lines as the Dow Jones continues drifting further away from its last all-time high, would indicate that Japan's problems are quickly becoming American problems!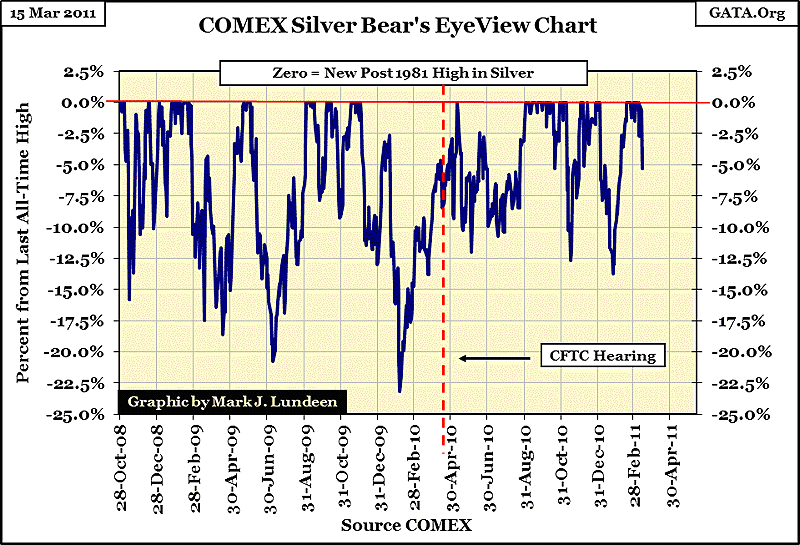 My Bear's Eye View (BEV) charts are not the best graphic to track the gains of a raging bull market. Not when every new all-time high is recorded as a Big Fat Zero. But there is no better charting technique for providing a pictorial view of a market's volatility characteristics, or following the changing patterns of corrections within a bull market, in precise percentage terms. This makes the Bear's Eye View useful in comparing one market to another.
Since their respective credit crisis lows, the Dow Jones, gold and silver have all seen nice bullish chart patterns in their BEV Plots, with the Dow being the least volatile, and silver the most volatile. So, we should all take notice that from a BEV perspective, the declines in the usually placid Dow, has as of 15 March, exceeded the declines the volatile silver market. Exactly what this means for the rest of 2011 is presently unknowable. But looking at the market as Mr. Bear does, maybe we are seeing the early signs of coming problems in the stock market.
 
Mark J Lundeen
16 March 2011
mlundeen2@Comcast.net
TrackBack URI for this entry
Comments
(0)
Subscribe to this comment's feed
Write comment